CORPORATE SOCIAL RESPONSIBILITY
For our clients, we are the sidekick that supports them. Who lets them come out of the fight strong. We also want to be that same sidekick, friend and ally for our planet. We want to help and support where we can to take care of our planet. Not to be a hero, but because it is the right thing to do. We do this in different ways.
To show that art can be an unlimited expression of form, feeling and value, we started the Noble-Art project. We consider art by people with a mental disability at least as important as art by famous artists. By buying art objects at Noble-Art these special artists experience that their work is appreciated. And we love it! Do you also want something beautiful on your wall from Noble-Art? Great! Check out the
Noble-Art
shop here and buy a beautiful piece of art for yourself or your organisation. All revenue we generate through this initiative goes directly back to the artists.
ENVIRONMENTALLY FRIENDLY PRODUCTION PROCESS
At Sidekix, we are constantly looking at new ways to produce, pack, ship and recycle in the most environmentally friendly and energy-efficient way possible. For example, we have FSC® (SCS-COC-006875) and PEFC (SCS-PEFC/COC-006875) certificates, and we work with bioplastics and animal-free inks and sustainable toners as standard. Our printers and packaging machines are manufactured as C02 neutral as possible and are completely stripped at the end of their useful life and the parts are given a second life. When packaging products, we ensure proper protection, for example with finely shredded cardboard scraps through our cardboard shredder, to minimize damage-returns. Special wrapping machines provide customized packaging so that no filling material is needed and no unnecessary air is carried in the further logistic process towards the end consumer. Sidekix also uses a cardboard press, which means that cardboard wastecan be transport edto the environmental street many times smaller. This allows us to transport much more waste to the location at the same time, which in turn reduces the amount of transport required. Residual flows of toners and inks, production waste, crockery, cardboard remnants, pallets, pallet corner protectors, protective sheets, etc. are recycled. Sidekix recently received the Clean Planet Program Certificate from Konika Minolta for this.
We work together with local suppliers as much as possible. Some examples are the local greengrocer for supplying the 'company fruit' and the bicycle courier company Groen Bezorgen (Green Delivery). We also support special initiatives with donations and sponsorships, such as the Heart Foundation, the Red Cross, the Assistance Dog Foundation and the crowdfunding campaign Yvonne op Hakken for MS treatment.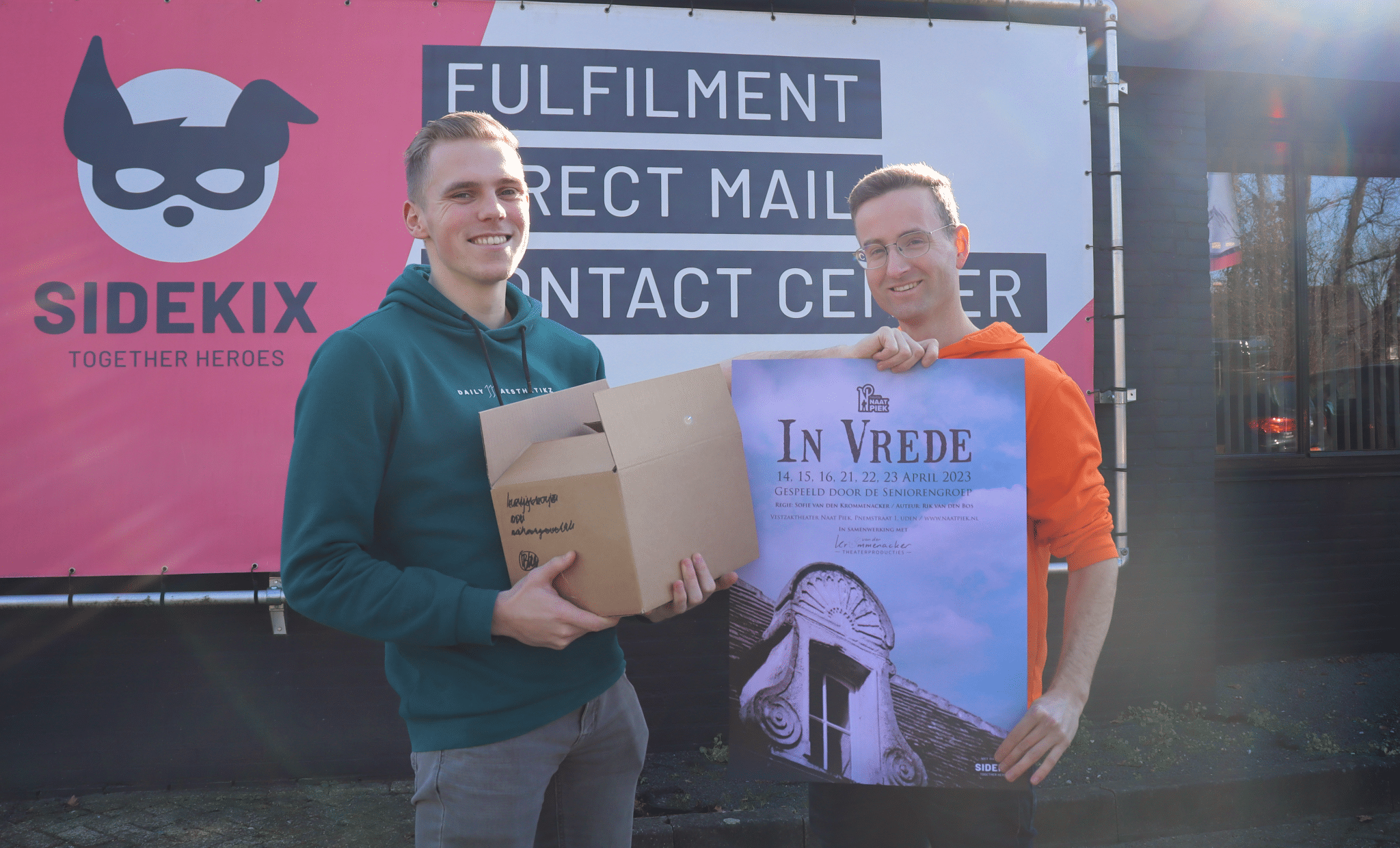 Sidekix is a sponsor of Theater Naar Piek: a Uden theater association by and for volunteers.
Sidekix attended the annual Deployteq Resell Partner Event again this year! Deployteq is
As of November 1, the Sidekix Board of Directors is reinforced by Peer Visser. A great step for him and the future of Sidekix!