'You invent it. We deliver it." That's the thinking behind our Marketing Fulfilment. Your priority is to choose the right marketing strategy, and that requires a lot of strategic insight and creativity. Thanks to our Marketing Fulfilment services, you and your team and/or advertising agency can fully focus on that. Because you can confidently leave the execution to Sidekix. We take care of the action in your marketing. That starts with the complete logistical handling of your marketing campaigns. From storing, packaging and shipping promotional materials and other physical products to sending your direct mailings, e-mailings, building campaign sites and complete customer service. Whether it's win promotions, product + promotions, loyalty programs, retail promotions, large activation campaigns or the complete logistical handling of online orders, you can count on Sidekix. In any case, parties like KPN, the Postcode Lottery, Swinkels Family Brewers, the VriendenLoterij and many others do so with complete confidence.
Especially when it comes to multichannel marketing campaigns with online and offline expressions, physical products and personal contact, it is essential to have direct insight into all channels. This is why we provide all these services in-house, with a single point of contact for all activities. How do we do that? In the first place with a team of over 120 driven professionals. We also have a
large logistics center
, our
own Contact Center
with customized customer service services, our
own printing and packaging line
and a unique self-built Campaign Management System. Of course, that also helps.
Focus. Your brainpower, energy and attention goes to your core business, your expertise and your responsibilities. We do the rest.
Streamlined. We optimize the processes in your marketing supply chain in terms of efficiency, reliability and quality.
Effective. Our innovative technology simplifies the production and distribution of your marketing materials and gives you real-time visibility into workflow status and performance.
Buying Power. Thanks to our in-house production facilities and extensive partner network, purchasing power and knowledge of the fulfillment process, we can achieve substantial cost savings. Moreover, our specialists are engaged on a project basis or monthly for a fixed amount, so you as a company will not have to deal with unexpected costs.
Efficient. Because we handle online, offline and live customer contact for you, there is no noise on the line. You no longer have to deal with different specialists and suppliers in this area to execute your marketing campaigns. No noise on the line, no communication breakdowns. Less directing costs for you.
Our specialists have extensive knowledge within the marketing world in many subfields. By using outsourcing of marketing execution, your company can thus still deliver high-quality marketing.
Innovative. We understand the mechanisms of the marketing supply chain and incorporate them into innovative processes and techniques that fit your way of working. We've built our Marketing Fulfilment services on often years of business collaboration by acting precisely as a partner and right-hand man (as a sidekick). We are on your side.
Marketing Fulfilment Whitepaper
Anyone who has ever conceived, set up and/or realised a (marketing) campaign knows: no matter how good an idea is, without a perfect execution you will not get the desired result. That's why many A-brands work together with a Marketing Fulfilment partner. What Marketing Fulfilment exactly is and what it can mean for you and your company, we'll tell you in our white paper about Marketing Fulfilment.
* Mandatory field. By downloading the Whitepaper, you give us permission to contact you.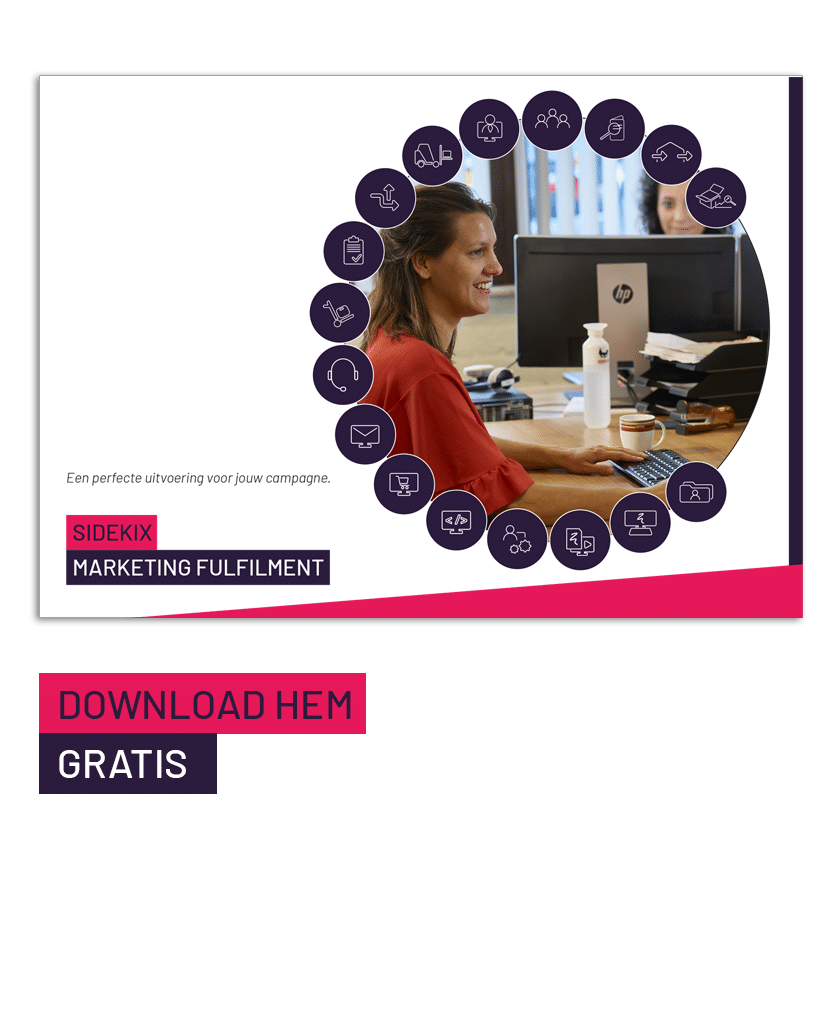 Because a wide range of clients come to us to solve all kinds of challenges, we like to apply new innovative technologies. We regularly use these best practices to achieve better results. Not only because we bring campaign fulfilment to a higher level, but also because we set the bar high for ourselves. This keeps us sharp as a sidekick and offers more opportunities to our clients.