Annually Sidekix provides more than 22 million contact moments with Dutch consumers. 22 million! And yet we know that every single contact we have with your customers is an important moment in itself. This is most true of our customer service. Because with time and attention we reassure people, give them confidence or inspire them to make a decision. Not for nothing is it also called customer care with a fancy word. You care about your customers and we understand that. And we guarantee it! In fact, our customer service has the ISO 18295 certificate specially developed for customer contact centers. 
Our contact center employs qualified professionals who understand the importance of speaking to a customer in the right way. Whether they have won a prize or we are asking them to schedule an appointment or are interested in your products. As a call center, we are your voice. And because of our experience and knowledge, we know exactly what the right moment is to call. But also when not to.
In addition to deploying an inbound or outbound call centre, we also see that more and more customer interactions are handled digitally. Social media increasingly determines how companies look for the customer. It is smart for an organisation to anticipate this, and we are happy to help.
Customised customer contact
Communication with the most important part of your business - your customers - is in our hands. And we want to do it in the best possible way. That's why we first immerse ourselves in your organisation and the purpose of the customer contact. Is it about back office, lead follow-up, customer service or something else? Does the customer contact only take place by telephone, or also chat, webcare and e-mail? What does your target group look like? Are they young people or senior citizens? Are they at home during the day or not? We will find out together with you. With the answers to these and many more questions, we set up a tailor-made protocol, so that our call agents can put themselves in your organisation's skin.
In every customer contact that subsequently takes place, customer focus is central. Whether it is telemarketing, customer handling, customer satisfaction surveys or recruiting new members. With patience, friendliness and expertise, we help your customers, give advice and solve problems. Our call agents are intensively trained (internally, but also externally, such as WFT diplomas and COPC certification) to speak to different customers and are continuously coached and trained to keep the bar high. They take their time, listen attentively and are able to convince potential clients. Outsourcing your customer service with Sidekix not only saves you time, but also results in a better customer experience and higher conversion.
Contact Centre Whitepaper
Satisfied customers are an indispensable part of your business. Without them you don't have the means or the motivation to do what you do best. Investing in the quality and expertise of your customer contact is therefore essential. But is this something you should keep in-house or rather outsource to a professional partner? In our latest Whitepaper we help you  find the answer!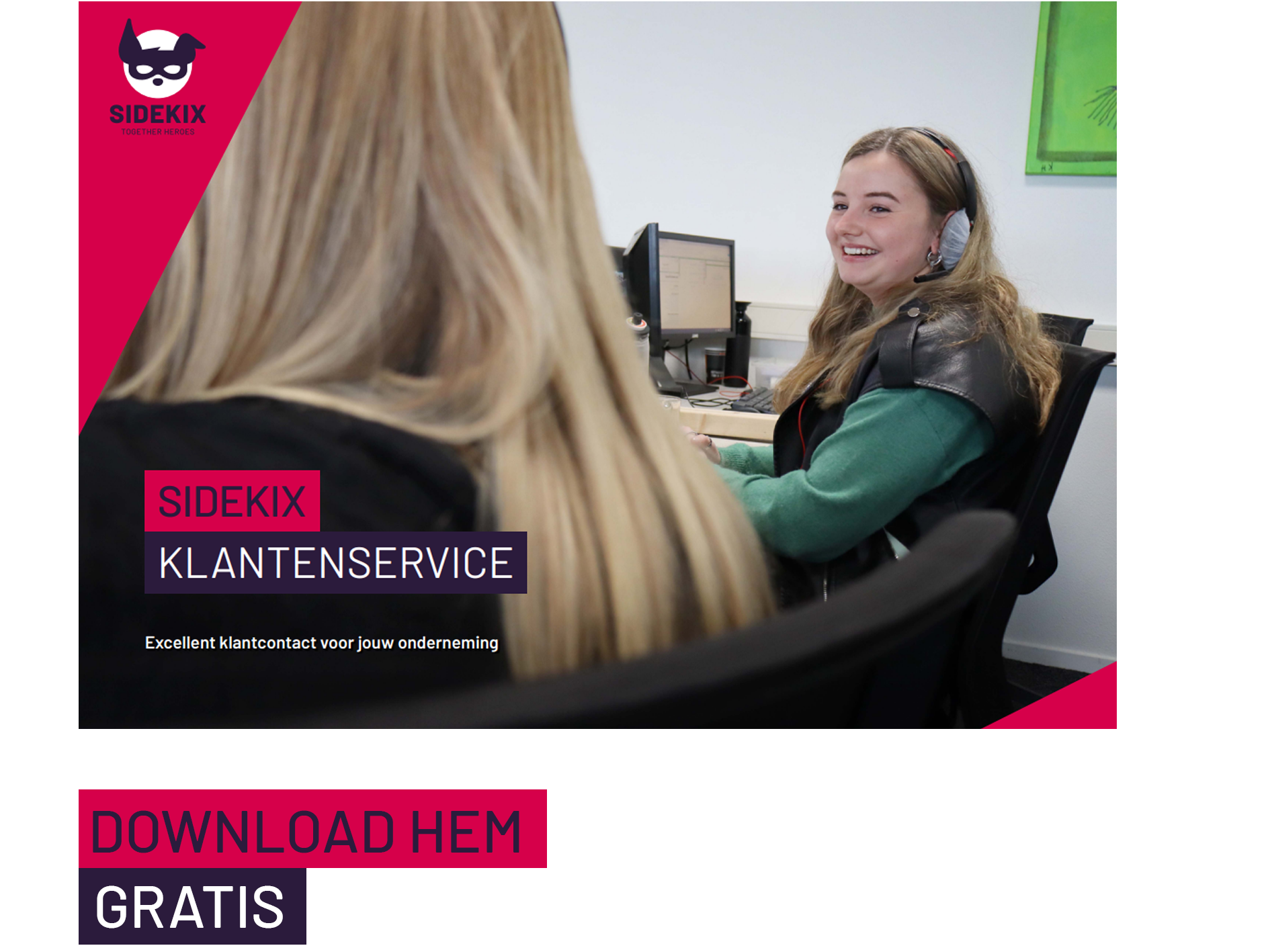 * Mandatory field. By downloading the Whitepaper, you give us permission to contact you.

More than just a contact centre
A particular advantage of the Sidekix Contact Center is that, in addition to live customer contact, we offer a wide range of related and supplementary services throughout the customer journey. Almost every marketing campaign involves multiple contact moments with the customer. From the first meeting to after-sales and customer service. And in each phase of the purchasing process, from problem identification to purchase decisions and customer retention, different marketing tools can be used. This can be live customer contact through our Contact Center, but also an e-mailing, interaction through social media, a landing page, a direct mailing, etc. Sidekix is also the right place for these services. End to end solutions, we call it.